Eugene Hadjoudis-in memoriam
DATE:24-07-2023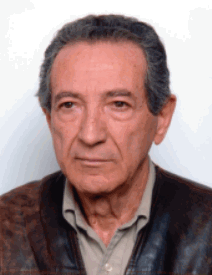 It is with deep sadness that we announce the passing of Dr. Eugene Hatzoudis, one of the oldest members of the scientific staff of NCSR "Demokritos". As a researcher, Dr. Hadjoudis has contributed to the high quality scientific output and prestige of "Demokritos", for decades. For us, who continued and expanded his research, he has been a respected and beloved figure and a reference point that we will honor and remember.
Eugene Hatzoudis was born in 1929. He studied Chemistry at the University of Athens and continued his postgraduate studies at the Weizmann Institute of Science in Israel, where he obtained his doctorate. He carried out postdoctoral studies at Uppsala University, Sweden, and worked also as a visiting researcher at the Pioneering Research Laboratory in Boston, USA, for one year. In 1970, he founded the Solid State Chemistry Laboratory in the Nuclear Research Center "Demokritos", as was named then. In 1973, he received his habilitation as Professor of Physical Chemistry at the University of Athens and in 1974 he became the Director of the Chemistry Section of "Demokritos". In 1981 he received the G. Panopoulos Prize for Chemistry of the Academy of Athens. In 1990 he became Director of the newly founded Institute of Physical Chemistry of the (re-named) National Center for Scientific Research "Demokritos" and also the head of the Laboratory of Structural and Supramolecular Chemistry, until his retirement in 1996. Since 1996, he had been a honorary researcher of the Institute of Physical Chemistry.
We express our deepest condolences to his family.
Irene Mavridou and Konstantina Yannakopoulou
Laboratory of Structural and Supramolecular Chemistry
Με βαθειά θλίψη ανακοινώνουμε την εκδημία του Ευγένιου Χατζούδη, τέως επικεφαλής του Εργαστηρίου Δομικής και Υπερμοριακής Χημείας. Ήταν ένα από τα παλαιότερα στελέχη του επιστημονικού δυναμικού του "Δημοκρίτου", στο έργο, το κύρος και την φήμη του οποίου συνέβαλε τα μέγιστα, για πάρα πολλά χρόνια. Για μας, που συνεχίσαμε και επεκτείναμε το ερευνητικό του έργο, απετέλεσε σεβαστή και αγαπητή μορφή και σημείο αναφοράς που θα θυμόμαστε και θα τιμούμε.
Ο Ευγένιος Χατζούδης γεννήθηκε το 1929. Σπούδασε Χημεία στο Πανεπιστήμιο Αθηνών και συνέχισε μεταπτυχιακές σπουδές στο Weizmann Institute of Science του Ισραήλ, από όπου και απέκτησε τον διδακτορικό του τίτλο. Έκανε επίσης μεταδιδακτορικές σπουδές στο Πανεπιστήμιο Uppsala της Σουηδίας και ήταν επισκέπτης ερευνητής στο Pioneering Research Laboratory της Βοστώνης των ΗΠΑ επί ένα έτος . Το 1970 δημιούργησε στον "Δημόκριτο" το εργαστήριο Χημείας Στερεάς Κατάστασης. Το 1973 ανακηρύχτηκε Υφηγητής της Φυσικοχημείας του Πανεπιστημίου Αθηνών και το 1974 ανέλαβε τη Διεύθυνση Χημείας του Κέντρου Πυρηνικών Ερευνών "Δημόκριτος". Το 1981 πήρε το βραβείο Γ. Πανόπουλου της Ακαδημίας Αθηνών για τη Χημεία. Το 1990 ανέλαβε τη Διεύθυνση του νεοϊδρυθέντος Ινστιτούτου Φυσικοχημείας του Εθνικού Κέντρου Έρευνας Φυσικών Επιστημών "Δημόκριτος" και επικεφαλής του Εργαστηρίου Δομικής και Υπερμοριακής Χημείας, μέχρι τη συνταξιοδότησή του το 1996. Από το 1996 ήταν ομότιμος ερευνητής του Ινστιτούτου Φυσικοχημείας.
Εκφράζουμε τα θερμά μας συλλυπητήρια στην οικογένεια του.
Ειρήνη Μαυρίδου και Κωνσταντίνα Γιαννακοπούλου
Εργαστήριο Δομικής και Υπερμοριακής Χημείας