MANAGEMENT
The Institute of Nanoscience and Nanotechnology has a large number of Researchers and diverse activities and therefore the management model requires the involvement of different levels of decision making in order to ensure the highest possible participation, in an organized and effective manner. The main constituents in management of the Institute in terms of research strategy and structure and major financial decisions, are:
the Director,
the Scientific Council,
the Programs (Priorities) and
the Researchers General Assembly.
Some are established by the relevant legislation and have particular role (Director, Scientific Council) and the rest have been given responsibilities by the Director in order to create a mechanism for exchanging views and producing constructive proposals. More specifically the role of each of the management bodies can be summarized as follows:
Scientific Council: According to the legislation it assists the Director in aspects mainly related to the research and development strategy including decision for new appointments. At INN the Council functions as a forum for the production of the research policy of the Institute.
Programs: They act as forum of processing the ideas and the proposals which are generated by the Scientific Council and the Director. Their role is very essential in the discussion of for new appointment, research priorities, and strategic plan.
General Assembly (Researchers and Staff): Although it is defined in the relevant legislation, no specific role is given. At INN the General Assembly is the body which discusses the proposals on important issues that are generated by the Scientific Council and the Programs and decisions are taken (approval or refinement). Then these decisions are discussed again at the Scientific Council regular meetings where the final proposals of the institute are formed. The management flow can be schematically represented by the following diagram:
Schematic representation of the management flow at INN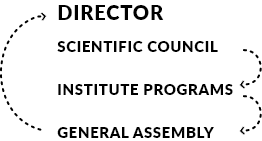 The management of the INN is assisted effectively by the administration personnel of the Institute which includes 3 members of staff with secretarial responsibilities and 2 for logistics. There is no structure in the administration office and all members refer on an equal basis to the Director. The responsibilities given to each of them are quite discrete to each other but at the same time there is enough overlap in order to assist one another when it is needed.

INN fully adopts NCRD's decision to develop and implement a detailed Gender Equality Plan. INN has actively participated and contributed to draft the National Plan for Open Science  which is a comprehensive proposal of goals, policies, commitments and actions for the adoption of Open Science in Greece.