Lab-on-a-Chip & Applications
Since the introduction of the micro total analysis system (μTAS) concept in 1990 and thanks to the extensive research efforts from the increasingly growing lab-on-a-chip (LoC) community since then, the global excitement for this revolutionary technology has been exponentially increasing, owing to its appealing advantages over conventional laboratory tests: rapid response time, miniaturized sample volumes, reduced cost, automation and portability. Leveraging our novel microfluidic devices, we are designing and developing more integrated lab-on-a-chip devices accommodating sample preparation (e.g., bacteria capture, thermal lysis, DNA purification, DNA amplification) and detection (mainly through collaborations; S. Chatzandroulis, E. Gizeli) addressing pathogen screening or quantification for application in food safety, healthcare, and environmental monitoring. Examples include a LoC for foodborne pathogen detection and a Lab-on-Printed Circuit Board (LoPCB) accompanied by a point-of-care platform for molecular diagnosis of urinary tract infections, both at unprecedented short time-to-result.
Lab-on-Printed Circuit Board and Point-of-Care for application in Healthcare. Building on the successful fabrication of microfluidics with photopatternable polyimide, we have developed a Lab-On-a-Chip platform on Printed Circuit Board substrates, seamlessly integrating a μPCR module and Si-based biosensors (placed in a hybridization chamber on the PCB), to allow DNA amplification and detection on the same chip. Currently, a lab-on- a-chip where bacterial DNA is amplified rapidly and efficiently, combined with detection of amplified DNA on sensitive graphene-oxide biosensors is being developed. This LoPCB is accompanied by a prototype, automated, portable diagnostic platform (Point-of-Care), for temperature and flow control and sensor read-out. This platform is currently tested for urinary tract infections, but it can be easily extended to other bacterial or viral infections.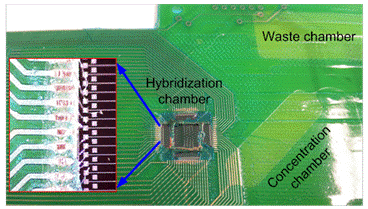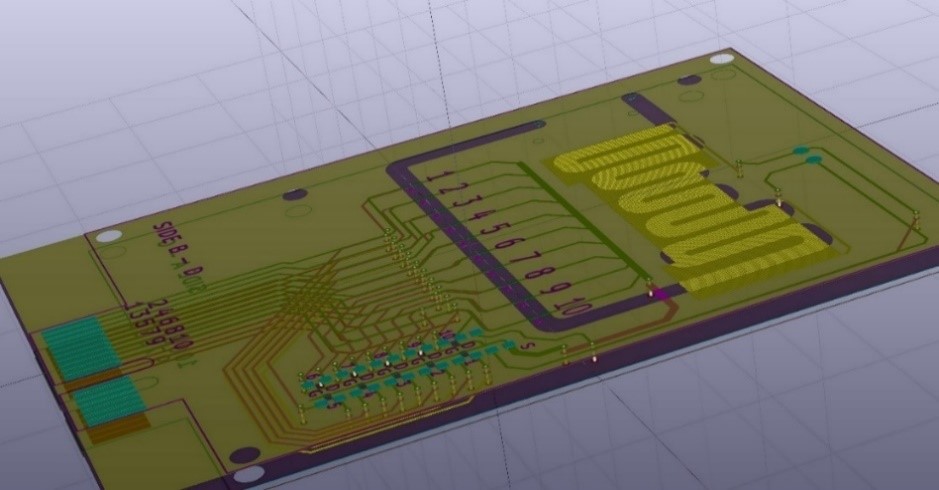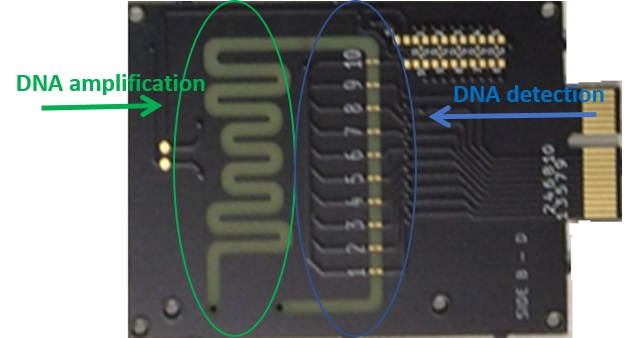 Lab-on-a-Chip and Point-of-Care for Foodborne Pathogen Detection. Diseases initiated by food-borne pathogens represent an increasing threat for the public health and safety worldwide, therefore, rapid and reliable pathogen detection is of utmost importance. However, the duration of common food analysis practices is typically 2–5 days. Lab-on-chip devices can reduce labor and analysis time to a few hours, proving its beneficial use and rendering the response of food industry as well as public safety agents faster. The aim of our work was the fabrication and evaluation of an integrated Lab-on-Chip platform for sample preparation, accommodating bacteria capture, lysis, DNA purification (where necessary), and DNA amplification, addressing pathogen screening in milk samples. Three generations of LoC devices were developed for rapid detection of bacteria in dairy products, in collaboration with FORTH-Univ. Crete, Pasteur Institute, Jobst Technologies GmbH, SENSeOR SA and Univ. Pardubice; the most advanced device integrated in a single chamber the steps of bacteria capture, lysis and isothermal amplification (LAMP), while detection was achieved on an acoustic (SAW) device, providing a sensitive, highly integrated and user-friendly platform for sample-to-result analysis within 4.5 h.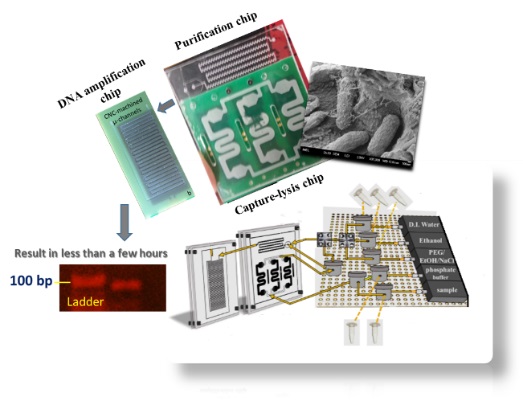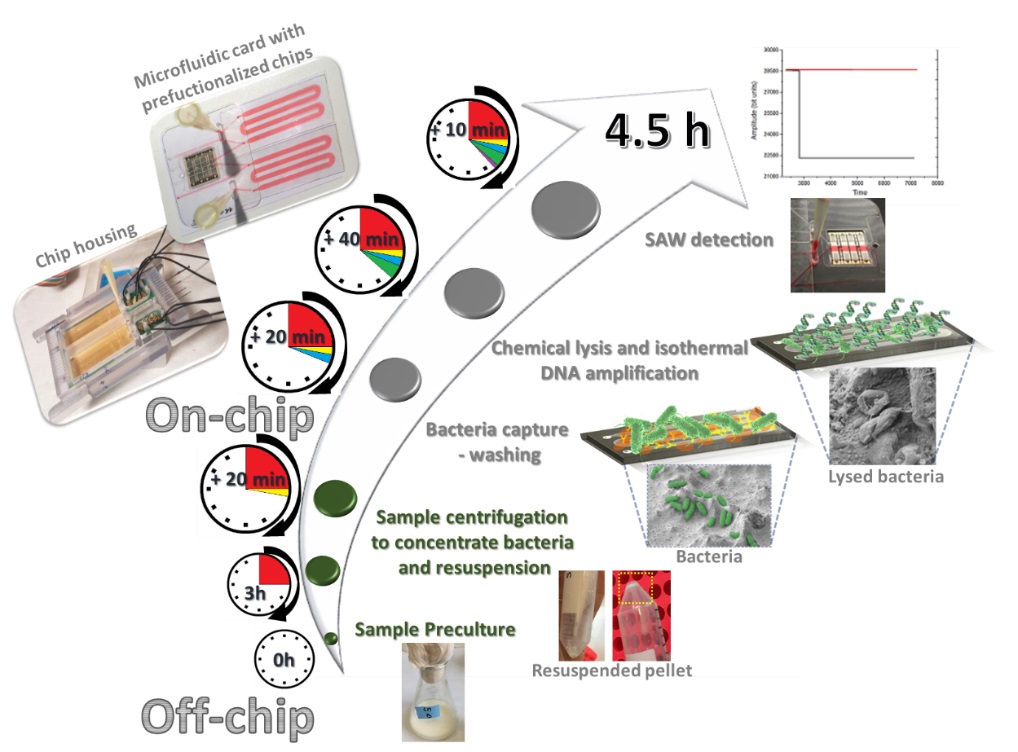 Molecular testing with Colorimetric detection at the Point-of-need for Food and Environmental safety. Food- and water-borne infections are commonly caused by bacteria. Very recently Legionella has been identified by the World Health Organization as the highest health burden of all waterborne pathogens in the European Union. However, the low frequency sampling and the long duration of legionella cultures (up to 10 days) do not allow for prevention of legionella outbreaks. Thus, the development of more efficient water diagnostics for pathogens and faster analyses methods is recognized worldwide. Our group, leveraging the expertise acquired in the molecular testing of food-borne bacteria and in collaboration with Nanoplasmas PC, is realizing a lab-on-a-chip based on colorimetric detection (visual inspection) for ultra-rapid and easy L. pneumophila detection at the point of need.