Green building materials and cements
The aim of this activity is to investigate the production of novel, eco-friendly cement clinkers, with equivalent or improved performance compared to the conventional Portland (OPC). Towards this direction, several design parameters such as raw mix composition, production temperature and firing duration are studied, aiming at the laboratory production and optimization of sulfoaluminate belite-rich cement clinkers (SABC). Clinkering conditions affect the phase formation of the clinker, which in turn is directly linked with microstructure and compressive strength development of associated cements.
The suitability of several raw materials (natural and by-products) for the production of this new type of cement clinker, is also part of this activity. A series of raw materials such as limestone, clay, bauxite, gypsum etc., as well as industrial by-products (red mud, light grade bauxite residue etc.) are examined and evaluated for their suitability for cement production.
The analytical techniques XFR, XRD and SEM-EDS are used to determine their chemical and mineralogical composition, giving emphasis on the basic cement oxides (CaO, SiO2, Al2O3 and Fe2O3) and other constituents such as heavy metals and radioactive elements.
Finally, the hydration mechanism of BCSA cements is monitored by electron microscopy (SEM/EDS), thermal analysis (DTA/TGA) and X-ray diffraction (XRD/QXRD), for obtaining morphological, chemical and mineralogical characterization of hydrated phases.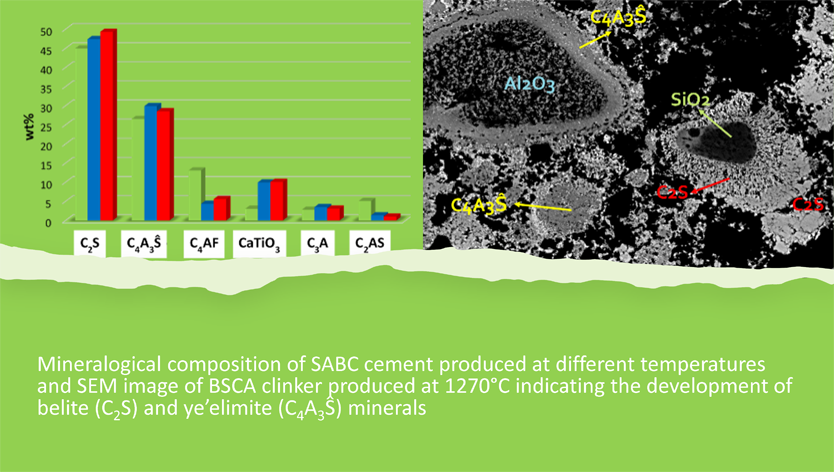 Featured publications
Koumpouri, D., Karatasios, I., Psycharis, V., Giannakopoulos, I.G., Katsiotis, M.S., Kilikoglou, V., Effect of clinkering conditions on phase evolution and microstructure of Belite Calcium-Sulpho-Aluminate cement clinker (2021) Cement and Concrete Research, 147, DOI: 10.1016/j.cemconres.2021.106529
Koumpouri D., Katsiotis M., Karatasios I., Pistofidis N., Giannakopoulos J., Psycharis V., Kilikoglou V. Belite formation and polymorphic trasformation in Belite-Calcium Sulfo-Aluminate clinker, 1st International Conference on Innovation in Low-Carbon Cement and Concrete Technology (2019)
Koumpouri D., Katsiotis M., Pistofidis N., Karatasios I., Kilikoglou V., Effect of clinkering temperature on the hydration of belite-calcium sulfo-aluminate cements, Conference in honour of Centennial of Laboratory of Construction Materials and 60th Birthday of Prof. Karen Scrivener, Lausanne-EPFL, Switzerland, 19-22 August 2018.
Koumpouri D., Katsiotis M., Pistofidis N., Giannakopoulos J., Karatasios I., Kilikoglou V., ''Use of bauxitic industrial by-products for the production of belite-calcium sulfoaluminate clinker'' International workshop on calcium sulfoaluminate cements, Murten, Switzerland, June 4-6 2018.